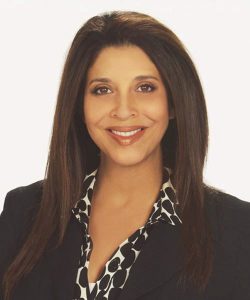 Christine Devine, Fox 11 News anchor in Los Angeles, has been selected as the midlifebachelor.com Woman of the Month for November 2008!
I almost always watch the Fox 11 News at Ten each night, and I can personally tell you that Christine Devine is not just another hot reporter – no.  Christine Devine delivers the news with an air of sophistication … she oozes class and displays a certain grace that you can only appreciate if you see her for yourself.  She also looks great in high def!
Christine Devine is well known for her weekly "Wednesday's Child" segment where she profiles a local child who is up for adoption.  I have to say that I really admire Christine Devine for doing this – so many young children have found homes as a direct result of her work … it is absolutely heartwarming.
Christine Devine's accolades are numerous – both for her reporting and for her volunteer work.  She has won eight Emmys thus far … six for best newscast.  She also won the prestigious National Gracie Allen Award from the American Women in Radio and Television, and the Child Welfare League of America's "Anna Quindlen Award for Excellence in Journalism on Behalf of Children and Families."  I could continue to list all of Christine Devine's awards here – but the page would go on and on and on … so you get the idea.  Christine Devine is an outstanding reporter, and an exceptional member and volunteer in the Los Angeles community.  We at midlifebachelor.com salute Christine Devine with our own Woman of the Month nomination!
There is actually very little information about Christine Devine online.  We are going to guess at her age as being forty-two.  We came up with this guess because it appears that her first full-time broadcasting position happened in 1988 … which could imply that she graduated from college in 1987 … which would make her 21 in 1987 … and so the ensuing math makes her roughly age 42 today.  We have no idea if Christine Devine is married or not – but some of the photos we found on the web imply that she does have a boyfriend.
Here is an updated 2014 video I found of Christine Devine when I was updating this page …
Typically at this point, we attempt to analyze our Woman of the Month pick in terms of the Midlifebachelor.com 14 Types of Women.  Which type or types do you suppose Christine Devine might be?  Well, she is certainly a Jackpot (see Types of Women – Jackpot) since she is a high income earner.  If you know Christine Devine personally and/or would to share something about her – please add a COMMENT to the comment section at the bottom of this page!