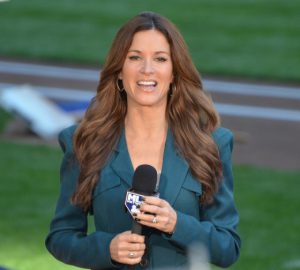 Sam Ryan, MLB sportscaster, has been selected as the midlifebachelor.com Woman of the Month for September 2015!
Sam Ryan has been a studio host and reporter on the MLB Network since September 2011, and appears regularly on the network's Quick Pitch, The Rundown, and other shows.  Next to Erin Andrews, she is one of the hottest sportscaster women on this planet.
Sam attended the New York Institute of Technology, and also majored in Communications at Hofstra University.  She has worked for a number of stations including WVIT in Hartford, WFAN, ABC Radio Network, Fox Sports NY, WABC-TV, ESPN, CBS Sports, WCBS-TV.
There is very little biographical information about Sam Ryan.  She is apparently married to Jeff Ryan, and it appears that she was born in 1969 … which makes her roughly age 46 today.  If you know Sam Ryan personally, and can add something of interest about her, then please do so in the COMMENT section at the bottom of this page.
There is the best video of Sam Ryan in action that I could find.  You will need to fast forward to approximately 3:16 before she comes on (although Lauren Shehadi is pretty hot, too) …
Typically at this point, we attempt to analyze our Woman of the Month pick in terms of the Midlifebachelor.com 14 Types of Women. Which type or types do you suppose Sam Ryan might be?  Well, she is certainly a Jackpot (see Types of Women – Jackpot) since she is a high income earner.  If you know Sam Ryan personally and/or would to share something about her – please add a COMMENT to the comment section at the bottom of this page!
Click Here to see an Index of All Previous Women of the Month
Nominee for our Next Woman of the Month
Do you have a nomination for Woman of the Month? If so – please email us. We need you to include a good overall description of her, why you are nominating her, and also a URL that points to some information about her. We also need a non-copyrighted tasteful photo of her, or a URL that points to a photo. Serious consideration is given to women of achievement who have something other than their pretty smile to show off. In other words, the ideal Woman of the Month is intelligent, professional, well-dressed, good-looking, well-spoken, and would be considered a JACKPOT in midllifebachelor.com terminology. We prefer nominees who have nationwide exposure. Send your nominations to [email protected]