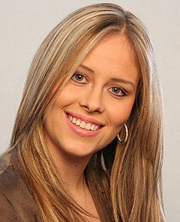 Stella Inger, of KPSP-TV CBS Local 2 News Palm Springs, has been selected as the midlifebachelor.com Woman of the Month for August 2008!
Thanks to an anonymous midlifebachelor.com reader from the Palm Springs area for nominating Stella – we think she is awesome, and since midlifebachelor.com is physically located in the Los Angeles area, we would never have seen Stella ourselves (in the absence of the nomination) because we don't get the desert-area television stations here.  My guess is that Stella Inger won't be in the desert for long – with talent and looks like hers, I think she is destined next to be on-air at one of the LA area stations … possibly even one of the national news networks like Fox News or CNN.
Here is what we know about Stella Inger.  She appears to be roughly 25 years old … I say "appears to be" because USC Annenberg TV News states that she graduated from USC in 2005 with a BA in Broadcast Journalism.  Stella Inger also appears to be single … we have studied the youtube video of her (below), and also the photo of her at the very top (above), and we cannot see any wedding ring on her finger.  Stella Inger was born in Russia, and came to the US when she was just 7 years old … where she grew up in Sherman Oaks, CA.  She attended Los Angeles Valley College before transferring to USC.   While attending USC, Stella worked as a personal banker … and then after she graduated, she first got a job as a reporter at KXLF-TV in Bozeman, Montana, then subsequently moved to KESQ-TV in Palm Desert, CA.  As I mentioned, she is currently at KPSP-TV in Palm Springs where she is the weekend anchor at 6 p.m. and 11 p.m., and where she also reports on weekday evenings.
Stella's broadcast journalism achievements include being nominated for an Emmy award for her piece entitled "Americans Converting to Islam After 9-11".  In June 2008, the Desert Sun newspaper nominated Stella Inger as Best Television Personality.  Stella Inger has been described in many ways – one of my favorites is "Stella is blessed with a deep broadcast voice, and has looks that could stop traffic"; (per jewsweek.com).  I have to admit that I definitely agree with the guys over at jewsweek.com!
Okay – behold Stella Inger in action in the youtube compilation video below, plus another more recent video I found of her when I was creating the mobile-friendly version of this page …
Typically at this point, we attempt to analyze our Woman of the Month pick in terms of the Midlifebachelor.com 14 Types of Women.  Which type or types do you suppose Stella Inger might be?  Well, she is certainly a Jackpot (see Types of Women – Jackpot) since she is a high income earner.  If you know Stella Inger personally and/or would to share something about her – please add a COMMENT to the comment section at the bottom of this page!