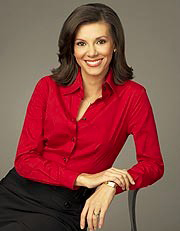 We are pleased to announce the selection of Kiran Chetry of CNN as the midlifebachelor.com Woman of the Month for August 2010!
One of our readers nominated Kiran Chetry for the distinction of being our Woman of the Month, and we fully agree that she is hot and exotic-looking, and comes across extremely professional during her broadcasts.  We envy John Roberts in terms of him getting to work with her every day.
Here is what we know about Kiran Chetry.  She was born in Nepal in August 1974 to a Nepalese father, and a mother who is of Ukranian, Dutch, and German descent … who were in Nepal as Peace Corps volunteers.  They moved to Gaithersburg, Maryland when Kiran was around one year old – and that is where she grew up.  She graduated from the University of Maryland, College Park with a degree in Broadcast Journalism.  Prior to co-anchoring on CNN with John Roberts, Kiran Chetry worked at Fox News Network as a general assignment reporter, and a weekend news co-host.  In 2006, Kiran made Maxim Magazine's top ten list of TV's Sexiest News Anchors, placing third on the list.  Kiran was ranked as America's sexiest female anchor, and the world's second sexiest female anchor.  In October 2007, Kiran was featured in Esquire's "Women We Love: The Newsgirls".
Unfortunately for us midlife bachelors, Kiran Chetry is married to former Fox News Channel weatherman Chris Knowles – and they do have two small children together.
Here is an updated HD video I found of her from 2016, which shows off her incredible legs …
Typically at this point, we attempt to analyze our Woman of the Month pick in terms of the Midlifebachelor.com 14 Types of Women.  Which type or types do you suppose Kiran Chetry might be?  Well, she is certainly a Jackpot (see Types of Women – Jackpot) since she is a high income earner.  If you know Kiran Chetry personally and/or would to share something about her – please add a COMMENT to the comment section at the bottom of this page!