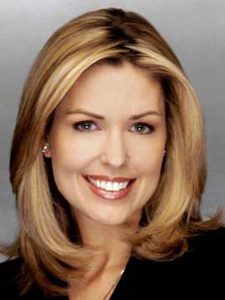 Midlifebachelor.com proudly announces our selection of Christi Paul of HLN as our Woman of the Month for December 2010!
Christi Paul is a very hot blonde bombshell HLN news anchor based out of CNN's world headquarters in Atlanta, GA. She joined CNN in 2003 as a weekend anchor, and previously had been a reporter and anchor at television stations in Boise and Phoenix.
Christi Paul was born in 1969 which makes her approximately 41 years old … square in midlife just like the rest of us here. She was raised in Bellevue, Ohio, and attended the University of Toledo where she earned her Bachelor's degree in Broadcast Journalism. She is a former Miss Mansfield (Ohio), and Miss Greater Cleveland 1991-92, and the third runner up for Miss Ohio 1993.
Details on Christi Paul's personal life are pretty difficult to come by. We have reports that state Christi Paul is currently married with three children. We also found reports that state she has only two children, and that she had been previously married to news reporter Rob Koebel. Christi – if you are out there, and want your fans to know the facts, then please drop us a line here at [email protected] and update us so we can add to your page here.
Here are a couple of videos of Christi Paul in action …
Typically at this point, we attempt to analyze our Woman of the Month pick in terms of the Midlifebachelor.com 14 Types of Women. Which type or types do you suppose Christi Paul might be? Well, she is certainly a Jackpot (see Types of Women – Jackpot) since she is obviously a high income earner. If you know Christi Paul personally and/or would to share something about her – please add a COMMENT to the comment section at the bottom of this page!
Click Here to see an Index of All Previous Women of the Month
Nominee for our Next Woman of the Month
Do you have a nomination for Woman of the Month? If so – please email us. We need you to include a good overall description of her, why you are nominating her, and also a URL that points to some information about her. We also need a non-copyrighted tasteful photo of her, or a URL that points to a photo. Serious consideration is given to women of achievement who have something other than their pretty smile to show off. In other words, the ideal Woman of the Month is intelligent, professional, well-dressed, good-looking, well-spoken, and would be considered a JACKPOT in midllifebachelor.com terminology. We prefer nominees who have nationwide exposure. Send your nominations to [email protected]

Do you have feedback for us concerning our content?
We would love to hear what you think about either our current Woman of the Month, or how we present our content here. Please bounce us an email with your feedback to [email protected]