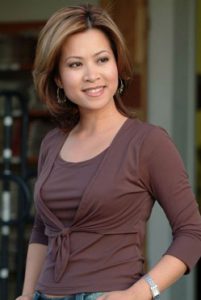 Leyna Nguyen, anchor for KCAL9 in Los Angeles for the 4:00 p.m. and 9:00 p.m. broadcasts, has been selected as the midlifebachelor.com Woman of the Month for February 2013!
Leyna Nguyen has worked as an anchor or reporter at KCAL9 since December 1997.  She is an Emmy-Award winning journalist, and is involved in charity work in Vietnam through her non-profit foundation called Love Across the Ocean … which builds and renovates schools in Vietnam, and helps underprivileged children and their families, and also assists refugee families in Southern California.  Leyna also hosts the Jerry Lewis MDA telethon, the Special Olympics Summer Games, and Heal the Bay.  She was named one of the "25 Most Influential Vietnamese Americans" in the year 2000; and in 1996, was named "YWCA Woman of the Year".
Prior to joining KCAL9 in LA, she worked as a reporter for KCRA in Sacramento, CA.  And before Sacramento, she lived in Augusta, Georgia – working at WRDW-TV.  She received her degree in Mass Communication from Webster University in St. Louis.  She was born in Vietnam on December 13, 1970 – and moved to Burnsville, MN when she was just 5 years old.  She married her husband, Michael Muriano, in 2005 – and they have two children together.
Here are several videos that show Leyna Nguyen in action …
Typically at this point, we attempt to analyze our Woman of the Month pick in terms of the Midlifebachelor.com 14 Types of Women. Which type or types do you suppose Leyna Nguyen might be? Well, she is certainly a Jackpot (see Types of Women – Jackpot) since she is a high income earner.  If you know Leyna Nguyen personally and/or would to share something about her – please add a COMMENT to the comment section at the bottom of this page!
Click Here to see an Index of All Previous Women of the Month
Nominee for our Next Woman of the Month
Do you have a nomination for Woman of the Month? If so – please email us. We need you to include a good overall description of her, why you are nominating her, and also a URL that points to some information about her. We also need a non-copyrighted tasteful photo of her, or a URL that points to a photo. Serious consideration is given to women of achievement who have something other than their pretty smile to show off. In other words, the ideal Woman of the Month is intelligent, professional, well-dressed, good-looking, well-spoken, and would be considered a JACKPOT in midllifebachelor.com terminology. We prefer nominees who have nationwide exposure. Send your nominations to [email protected]

Do you have feedback for us concerning our content?
We would love to hear what you think about either our current Woman of the Month, or how we present our content here. Please bounce us an email with your feedback to [email protected]