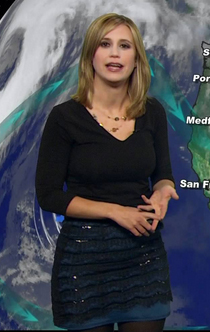 Louisa Hodge, general assignment reporter for KCBS2 and KCAL 9 in Los Angeles, has been selected as the midlifebachelor.com Woman of the Month for February 2014!
Louisa Hodge can be seen most nights on either CBS 2 or its sister station KCAL 9 news. She is an exceptionally good-looking woman, and is very articulate.  She is also a meteorologist, but you seldom see her reporting on the weather, and I'm not quite sure why. Could be that the weather is very competitive among the reporters?  I don't know.  Anyway – we love seeing Louisa Hodge every chance we get!
We know virtually nothing about Louisa Hodge's personal life.  We do not know if she is married, or single, or divorced … or whether she has any children.  We do know that received her Bachelor's degree in English in the year 2000 from the University of Vermont, and assuming she finished college at age 21 – then that makes her roughly age 35 today.  She also studied Meteorology at Mississippi State University, apparently becoming a meteorologist in 2010. Prior to moving to LA and starting at CBS2 and KCAL9, Louisa Hodge spent two years as a news anchor, reporter, and meteorologist at KRON-TV in San Francisco.  She also worked at several other Northern California television stations prior to her stint at KRON.
If Louisa Hodge reads this, maybe she can send us an email at info at midlifebachelor dot com, and fill us in on more details about her that she wants her fans to know about?  If she does, then I can certainly update this page.
Typically at this point, we attempt to analyze our Woman of the Month pick in terms of the Midlifebachelor.com 14 Types of Women. Which type or types do you suppose Louisa Hodge might be?  Well, she is certainly a Jackpot (see Types of Women – Jackpot) since she is a high income earner.  If you know Louisa Hodge personally and/or would to share something about her – please add a COMMENT to the comment section at the bottom of this page!
Click Here to see an Index of All Previous Women of the Month
Nominee for our Next Woman of the Month
Do you have a nomination for Woman of the Month? If so – please email us. We need you to include a good overall description of her, why you are nominating her, and also a URL that points to some information about her. We also need a non-copyrighted tasteful photo of her, or a URL that points to a photo. Serious consideration is given to women of achievement who have something other than their pretty smile to show off. In other words, the ideal Woman of the Month is intelligent, professional, well-dressed, good-looking, well-spoken, and would be considered a JACKPOT in midllifebachelor.com terminology. We prefer nominees who have nationwide exposure. Send your nominations to [email protected]

Do you have feedback for us concerning our content?
We would love to hear what you think about either our current Woman of the Month, or how we present our content here. Please bounce us an email with your feedback to [email protected]