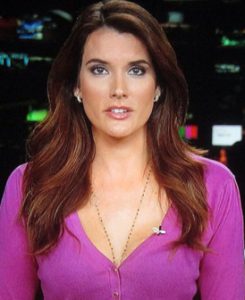 Christina Pascucci, general assignment reporter for KTLA5 in Los Angeles, has been selected as the midlifebachelor.com Woman of the Month for February 2015!
Christina Pascucci grew up in the Los Angeles area, and graduated from USC's Marshall School of Business in 2007 … which should make her roughly 29 years old in 2015 (assuming she graduated at age 21).  Before landing at KTLA5 in Los Angeles, she worked as a reporter KOLO-TV in Reno, Nevada … and then at KMIR-TV in Palm Springs where she anchored a two-hour morning television show.
Christina Pascucci studied broadcast journalism, entrepreneurship, and Spanish at USC.  She is fluent in Spanish, and also speaks some Mandarin Chinese.  She is also a pilot, and a certified scuba diver.  We don't know if she is married, or not – but we do know that she has a Pomeranian dog named Gracie, as a pet.  Since we men don't typically like little foo foo dogs like that, I am going to presume that Christina Pascucci is not married.  ha ha
We are so happy that Christina Pascucci is here in the Los Angeles area with us at midlifebachelor.com.  Here are some videos of Christina Pascucci in action.  I love this first video where the drunk man in Hollywood tells Christina how hot she is …
Typically at this point, we attempt to analyze our Woman of the Month pick in terms of the Midlifebachelor.com 14 Types of Women. Which type or types do you suppose Christina Pascucci might be?  Well, she is certainly a Jackpot (see Types of Women – Jackpot) since she is a high income earner.  If you know Christina Pascucci personally and/or would to share something about her – please add a COMMENT to the comment section at the bottom of this page!
Click Here to see an Index of All Previous Women of the Month
Nominee for our Next Woman of the Month
Do you have a nomination for Woman of the Month? If so – please email us. We need you to include a good overall description of her, why you are nominating her, and also a URL that points to some information about her. We also need a non-copyrighted tasteful photo of her, or a URL that points to a photo. Serious consideration is given to women of achievement who have something other than their pretty smile to show off. In other words, the ideal Woman of the Month is intelligent, professional, well-dressed, good-looking, well-spoken, and would be considered a JACKPOT in midllifebachelor.com terminology. We prefer nominees who have nationwide exposure. Send your nominations to [email protected]

Do you have feedback for us concerning our content?
We would love to hear what you think about either our current Woman of the Month, or how we present our content here. Please bounce us an email with your feedback to [email protected]