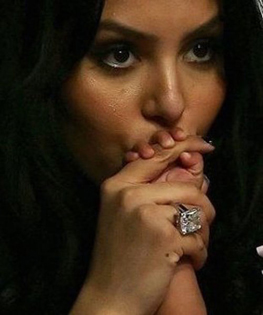 Vanessa Bryant, wife of LA Laker Kobe Bryant, has been selected as the midlifebachelor.com Woman of the Month for January 2012!
At midlifebachelor.com, we applaud when people who cheat on their spouses get caught.  It is not that we do not support the men – no matter what (because we do once they eventually wind up here on midlifebachelor.com) … rather we think that infidelity is wrong, and there should ALWAYS be a price to pay for it, no matter the circumstances.  Vanessa Bryant's NBA star husband, Kobe Bryant, famously was caught cheating back in mid 2003 with a hotel employee in Colorado … for which he was nearly prosecuted for rape.  Even though that event cost Kobe a $4M diamond ring to get back into Vanessa's good graces, he apparently did not learn his lesson … because rumors were rampant that he continued to cheat, and that other NBA stars' wives ratted him out to Vanessa.
According to Forbes® magazine, Kobe Bryant has a net worth somewhere around $300M – and since he and Vanessa Bryant were married for more than 10 years, she would have been entitled to half of it under California law (plus they did not have a pre-nuptial agreement).  She would also get alimony and child support – which should be substantial since Kobe is said to make roughly $53M/year currently between his NBA contract with the Los Angeles Lakers, along with endorsements, commercials, etc.  Had Vanessa Bryant divorced Kobe, she would have instantly become one of the wealthiest bachelorettes in Southern California, and we at midlifebachelor.com would have welcomed her into our realm of single/available people.
Here is a brief biography of Vanessa Bryant.  She was born May 5, 1982 in Pomona, CA as Vanessa Cornejo Ubrieta, although she later changed her last name to that of her stepdad, Stephen Laine.  She is half Mexican, and half Irish – which (as all can see) makes her one of the most stunningly beautiful women that I've, personally, ever seen.  She met Kobe in November 1999, when she was just 17 years old – she was a background dancer for a video … and Kobe was in the same building working on something else at the time.  They dated, and married one another in April 2001 – when Vanessa was just 19 years old, and Kobe age 23.  They've most recently lived in the Newport Coast community of Ocean Ridge.  They have two daughters, Natalia Diamonte Bryant (born January 19, 2003) and Gianna Maria-Onore Bryant (born May 1, 2007).
We were not able to find any video interviews with Vanessa Bryant – so all we have are the photos. If a good youtube video of her appears, be sure to let us know via the COMMENT section below so that we can post it here.
Typically at this point, we attempt to analyze our Woman of the Month pick in terms of the Midlifebachelor.com 14 Types of Women.  Which type or types do you suppose Vanessa Bryant might be?  Well, she is certainly a Jackpot (see Types of Women – Jackpot) since she is a high income earner.  If you know Vanessa Bryant personally and/or would to share something about her – please add a COMMENT to the comment section at the bottom of this page!