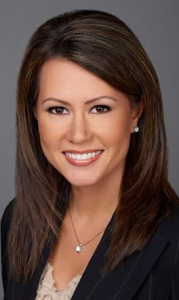 Midlifebachelor.com has selected Betty Nguyen of CNN news as our Woman of the Month for July 2008.  Thanks to midlifebachelor.com reader Brian Sharkey for nominating Betty.  Since I usually don't watch CNN news, I was not aware of Betty Nguyen until Brian pointed her out.
Here is what we know about Betty Nguyen.  First of all, she is half Vietnamese and half Caucasian.  We at midlifebachelor.com don't think she looks Asian at all … but the mix certainly does her justice, and works well for her because we think Betty Nguyen is extremely good-looking.  Betty Nguyen currently co-anchors CNN Saturday Morning and CNN Sunday Morning, and also the weekend editions of CNN Newsroom.  You can also find her at times on Anderson Cooper 360.   She is a great news anchor and reporter, and we at midlifebachelor.com highly recommend that you watch her in action.
Betty Nguyen was born in Saigon, Vietnam, and left that country in April 1975 when she was just a little girl.  We don't have a birth date for Betty, but we will guess that maybe she was born around 1970?  This would make her roughly 38 years old right now.  Betty attended and graduated from the University of Texas, Austin with a major in broadcast journalism – and worked as a news reporter in Dallas before joining CNN in Atlanta.
Betty Nguyen's achievements go beyond the small TV screen we see her on.  She is co-founder of Help the Hungry – a non-profit organization that provides aid to impoverished families.    The various philanthropic work she has done has earned her a spot on the Texas Philanthropy Hall of Fame.  She was also recognized by the Smithsonian Institute in 2007 as the first Vietnamese-American to anchor a national news broadcast in the US.
Here is a clip of Betty Nguyen in action – where she discusses being "Hapa" which means half Caucasian and half another race (Vietnamese in her case) …
And here is a clip of Betty Nguyen discussing her five-inch heels that reader Brian Sharkey was referring to in his Woman of the Month nomination email:
Often at this point, we at midlifebachelor.com attempt to analyze the Woman of the Month and guess which of our 14 Types of Women she might be.  We don't know Betty Nguyen personally, but we can guess that she is definitely a Jackpot (see Types of Women – Jackpot).    Try taking a look at the various other 14 Types of Women we have identified, and try to figure out which Betty might be … ???
Click Here to see an Index of All Previous Women of the Month
Nominee for our Next Woman of the Month
Do you have a nomination for Woman of the Month? If so – please email us. We need you to include a good overall description of her, why you are nominating her, and also a URL that points to some information about her. We also need a non-copyrighted tasteful photo of her, or a URL that points to a photo. Serious consideration is given to women of achievement who have something other than their pretty smile to show off. In other words, the ideal Woman of the Month is intelligent, professional, well-dressed, good-looking, well-spoken, and would be considered a JACKPOT in midllifebachelor.com terminology. We prefer nominees who have nationwide exposure. Send your nominations to [email protected]

Do you have feedback for us concerning our content?
We would love to hear what you think about either our current Woman of the Month, or how we present our content here. Please bounce us an email with your feedback to [email protected]