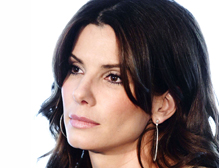 America's favorite actress and exceptional role model Sandra Bullock has been selected as midlifebachelor.com's Woman of the Month for July 2010!
Now I typically do not select mainstream actresses as Woman of the Month here on midlifebachelor.com, but in this case the choice was obvious and easy. Sandra Bullock has gone through an incredibly difficult and embarrassing personal situation with respect to her now ex-husband Jesse James – and she has come through it all with dignity, class, and her typical charm. She did not come out swinging when the news of her husband's affair broke – instead she kept it and herself private … and she proceeded with her life. She generously adopted a baby from New Orleans (something that apparently has been in the works for several years). And then she did the right thing by filing for divorce. [Sandra Bullock's divorce from Jesse James has just now become final, on June 28, 2010.]  Now don't get me wrong – in many cases, I'm all for giving people a second chance … but what Jesse James did is not worthy of any such second chances. If you need a reminder about the whole affair story, you can read about it here, as it was one of our ASK MIDLIFE BACHELOR questions:
Sandra Bullock is very much a role model for all of America in terms of her behavior, how she handles things, how she lives her life … and how she moves forward without allowing negative things and people to drag her into their dens of bad karma. We applaud Sandra Bullock – and welcome her into midlife bachelorette-hood. Some lucky midlife bachelor is going to eventually date her!
Here are a couple of recent youtube videos featuring Sandra. I tried pretty hard to find a really good quality video of her kissing Scarlett Johansson at the 2010 MTV Movie Awards, and this is the best one I could find. Please note that we men find the idea of good-looking women kissing each other to be totally hot:
Here is a video of the second of Sandra's recent appearances – this time at the Guy's Choice Awards 2010. Love her speech to the troops …
Usually, I go in depth about our Woman of the Month's background and education – but everyone already knows Sandra Bullock, so I don't feel compelled to overdo it here. If you google her, then you'll find all you need to know. Very briefly, she turns 46 years old this month, and has a media resume that fills several pages. If you are interested in reading more about our Woman of the Month, Sandra Bullock, then here is a great page to check out: http://en.wikipedia.org/wiki/Sandra_Bullock
Typically at this point, we attempt to analyze our Woman of the Month pick in terms of the Midlifebachelor.com 14 Types of Women. Which type or types do you suppose Sandra might be? Well, she is certainly a Jackpot (see Types of Women – Jackpot) since she is obviously a high income earner. If you know Sandra personally and/or would to share something about her – please add a COMMENT to the comment section at the bottom of this page!
Click Here to see an Index of All Previous Women of the Month
Nominee for our Next Woman of the Month
Do you have a nomination for Woman of the Month? If so – please email us. We need you to include a good overall description of her, why you are nominating her, and also a URL that points to some information about her. We also need a non-copyrighted tasteful photo of her, or a URL that points to a photo. Serious consideration is given to women of achievement who have something other than their pretty smile to show off. In other words, the ideal Woman of the Month is intelligent, professional, well-dressed, good-looking, well-spoken, and would be considered a JACKPOT in midllifebachelor.com terminology. We prefer nominees who have nationwide exposure. Send your nominations to [email protected]

Do you have feedback for us concerning our content?
We would love to hear what you think about either our current Woman of the Month, or how we present our content here. Please bounce us an email with your feedback to [email protected]