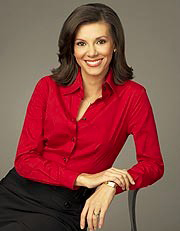 We are pleased to announce the selection of Kiran Chetry of CNN as the midlifebachelor.com Woman of the Month for August 2010!
One of our readers nominated Kiran Chetry for the distinction of being our Woman of the Month, and we fully agree that she is hot and exotic-looking, and comes across extremely professional during her broadcasts. We envy John Roberts in terms of him getting to work with her every day.
Here is what we know about Kiran Chetry. She was born in Nepal in August 1974 to a Nepalese father, and a mother who is of Ukranian, Dutch, and German descent … who were in Nepal as Peace Corps volunteers. They moved to Gaithersburg, Maryland when Kiran was around one year old – and that is where she grew up. She graduated from the University of Maryland, College Park with a degree in Broadcast Journalism. Prior to co-anchoring on CNN with John Roberts, Kiran Chetry worked at Fox News Network as a general assignment reporter, and a weekend news co-host. In 2006, Kiran made Maxim Magazine's top ten list of TV's Sexiest News Anchors, placing third on the list. Kiran was ranked as America's sexiest female anchor, and the world's second sexiest female anchor. In October 2007, Kiran was featured in Esquire's "Women We Love: The Newsgirls".
Unfortunately for us midlife bachelors, Kiran Chetry is married to former Fox News Channel weatherman Chris Knowles – and they do have two small children together.
Here is a somewhat recent (April 2007) video of Kiran when she first joined CNN. At that time, John Roberts was working remotely from Washington – whereas now both co-anchor together in New York.
Now if you want to see a great and funny video about Kiran Chetry's feet, and an exchange between her and Jay Leno – then check out the following video (which unfortunately is not embeddable … you need to follow the link to youtube in order to watch it):
Kiran Chetry's "What's under the Desk" video
Typically at this point, we attempt to analyze our Woman of the Month pick in terms of the Midlifebachelor.com 14 Types of Women. Which type or types do you suppose Kiran might be? Well, she is certainly a Jackpot (see Types of Women – Jackpot) since she is obviously a high income earner. If you know Kiran personally and/or would to share something about her – please add a COMMENT to the comment section at the bottom of this page!
Click Here to see an Index of All Previous Women of the Month
Nominee for our Next Woman of the Month
Do you have a nomination for Woman of the Month? If so – please email us. We need you to include a good overall description of her, why you are nominating her, and also a URL that points to some information about her. We also need a non-copyrighted tasteful photo of her, or a URL that points to a photo. Serious consideration is given to women of achievement who have something other than their pretty smile to show off. In other words, the ideal Woman of the Month is intelligent, professional, well-dressed, good-looking, well-spoken, and would be considered a JACKPOT in midllifebachelor.com terminology. We prefer nominees who have nationwide exposure. Send your nominations to [email protected]

Do you have feedback for us concerning our content?
We would love to hear what you think about either our current Woman of the Month, or how we present our content here. Please bounce us an email with your feedback to [email protected]