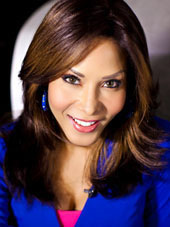 Nerissa Knight, KTLA 5 News reporter in Los Angeles, has been selected as the midlifebachelor.com Woman of the Month for July 2015!
Nerissa Knight has been a broadcast TV news journalist for 19 years … which should make her around age 41.  We could not find much biographical information on her – but we do know that she attended the University of Memphis, where as an undergraduate, she worked as an associate producer for KATV and later as a reporter for KTHV in Little Rock.
Currently, Nerissa Witherspoon Knight, is a reporter for KTLA 5 news in Los Angeles, CA.  Prior to coming to KTLA, she was a co-host for KNBC-TV's "Today in LA" weekends for four years.  She also spent three years in Dallas at KTVT-TV, a CBS affiliate.  She also has hosted KDAF-TV's syndicated morning show, "Eye Openter TV" which aired in various cities throughout the USA.
Nerissa Knight is married, with three children (two sons, and a daughter).  She apparently married her high school sweetheart, and they live in the Los Angeles area today.  She is outstanding, and we at midlifebachelor.com LOVE her!!
Here is a video of Nerissa Knight (produced by Nerissa herself) in action …
Typically at this point, we attempt to analyze our Woman of the Month pick in terms of the Midlifebachelor.com 14 Types of Women.  Which type or types do you suppose Nerissa Knight might be?  Well, she is certainly a Jackpot (see Types of Women – Jackpot) since she is a high income earner.  If you know Nerissa Knight personally and/or would to share something about her – please add a COMMENT to the comment section at the bottom of this page!