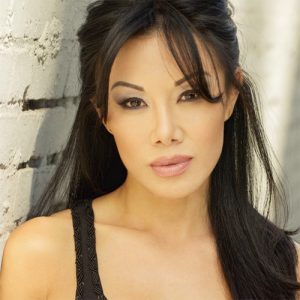 Sharon Tay, news anchor and reporter for KCAL9 and CBS2 News in Los Angeles, has been selected as the midlifebachelor.com Woman of the Month for May 2008!
Now I first noticed Sharon Tay for the first time many months ago when she suddenly started appearing on the evening news here in the Los Angeles area.  I remember thinking to myself how hot this woman is – and then guessing that she is maybe 28 years old or so.  WRONG – Sharon Tay was born on October 15, 1966 in Singapore … so that makes her forty-one.  Take a good look at Sharon Tay – she looks stunning for age 41, don't you think?
Here's what we know about Sharon Tay.  She is currently 41-years old, and lives in the Los Angeles area.   She was born in Singapore, and raised there, in Connecticut, and in the Philippines.  She went to college at Boston University where she earned her BS degree in Broadcast Journalism.  Before coming to KCBS2/KCAL9, Sharon Tay worked at a number of news organizations – including MSNBC and KTLA5 in Los Angeles.  We do not believe that Sharon Tay is married – as we don't see any references to a husband or boyfriend or anything out on the web.  Now this is interesting – apparently sometime in 2004 when Sharon Tay was working at KTLA5, she posted some fairly racy photos of herself on her personal website – and apparently this created quite a stir.  [I don't know what the hell I was doing back in 2004 that I missed out on this – but I only learned about this recently when I was studying up on Sharon Tay's history.]  Anyway – if you would like to see some of the photos, and read more about this situation, you can check it out here:  http://www.laobserved.com/archive/2007/04/welcome_back_sharon_tay.
Racy photos or not – we think Sharon Tay is a first class reporter and news anchor.  We at midlifebachelor.com are huge fans of Sharon Tay, and we hope that she stays with KCBS2/KCAL9 news for a long time so that we can enjoy seeing her nearly every night.
Here are two videos from 2016 that show Sharon Tay in action …
Typically at this point, we attempt to analyze our Woman of the Month pick in terms of the Midlifebachelor.com 14 Types of Women.  Which type or types do you suppose Sharon Tay might be?  Well, she is certainly a Jackpot (see Types of Women – Jackpot) since she is a high income earner.  If you know Sharon Tay personally and/or would to share something about her – please add a COMMENT to the comment section at the bottom of this page!