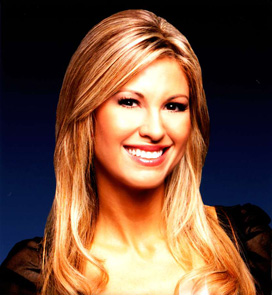 Olga Ospina, weekend weather reporter for Fox 11 News in LA, has been selected as the midlifebachelor.com Woman of the Month for May 2013!
Olga Ospina started at Fox 11 News in Los Angeles this past December 2012, and I noticed her right away … because she is one of the prettiest women on television by far.  Plus she has an incredible Latina figure … which floored me the first time I saw her.  I actually could not tell if she was a Latina or not – but discovered she is actually born from Columbian parents, and lived in Columbia from ages 8 to 13.  She is fluent in Spanish – and I like that.  She is blonde bombshell Latina reporter – what could be better than that???  ha ha
Here's the scoop on Olga Ospina.  She is currently the weekend weathercaster for Fox 11 News – although I have seen her perform general assignment reporting, as well.  Prior to Fox 11, she worked at KTLA in Los Angeles, and before that spend six years reporting in Central California.  She actually started her career on a cable channel in the Inland Empire area of Southern California (where I live) – but I don't recall ever seeing her before she came to Fox 11.  She also spent time hosting a Spanish language news magazine, plus she was the new anchor for Univision in Salt Lake City, and also was a news anchor in the Quad Cities area.
We know that Olga Ospina was mostly raised in Los Angeles, and is a graduate of UCLA.  Internet rumors show her age as 36 – but that is unconfirmed.  Internet rumors also state she has been married twice – but it is unknown if this amazing woman is currently married, or not.  We do not know if she has any children but she apparently does have two dogs.  If you have any additional details (or if Olga is reading this and wants to enhance this fan page with better information and/or some new photos), please use the COMMENT section below, else email me at info at midlifebachelor dot com.
Here are two videos of Olga Ospina in action.  The second video shows Olga briefly talking to her hot sister, Gloria … wonder if she is married??? …
Typically at this point, we attempt to analyze our Woman of the Month pick in terms of the Midlifebachelor.com 14 Types of Women. Which type or types do you suppose Olga Ospina might be?  Well, she is certainly a Jackpot (see Types of Women – Jackpot) since she is a high income earner.  If you know Olga Ospina personally and/or would to share something about her – please add a COMMENT to the comment section at the bottom of this page!
Click Here to see an Index of All Previous Women of the Month
Nominee for our Next Woman of the Month
Do you have a nomination for Woman of the Month? If so – please email us. We need you to include a good overall description of her, why you are nominating her, and also a URL that points to some information about her. We also need a non-copyrighted tasteful photo of her, or a URL that points to a photo. Serious consideration is given to women of achievement who have something other than their pretty smile to show off. In other words, the ideal Woman of the Month is intelligent, professional, well-dressed, good-looking, well-spoken, and would be considered a JACKPOT in midllifebachelor.com terminology. We prefer nominees who have nationwide exposure. Send your nominations to [email protected]

Do you have feedback for us concerning our content?
We would love to hear what you think about either our current Woman of the Month, or how we present our content here. Please bounce us an email with your feedback to [email protected]