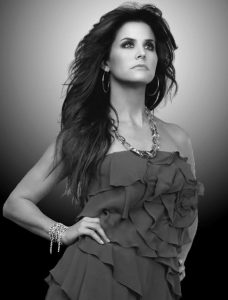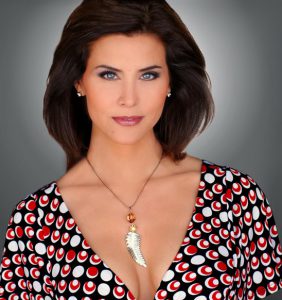 Lu Parker, KTLA 5 News anchor in Los Angeles, has been selected as the midlifebachelor.com Woman of the Month for May 2015!
Lu Parker currently works for KTLA 5 news as an anchor and as a special assignment reporter.  She is amazing when I have the opportunity to watch her at 1:00 p.m. on weekdays.  She is stunning and articulate … an incredible vision of perfection.  It was not a surprise when I learned that she is a former 1994 Miss USA from South Carolina.
Lu Parker (whose full name is actually Frances Louise Parker) was born in Anderson, South Carolina.  She graduated from the College of Charleston with a Bachelor of Arts degree in English.  She then got her Master's degree in Education from The Citadel.  She went on to teach English literature at North Charleston High School.  Her landed her first reporting job at WCSC-TV in Charleston, SC where she reported on education, and was also a fill-in news anchor.
In 2003, KABB-TV in San Antonio, TX hired Lu Parker as a weekend anchor and reporter.  She became that station's main anchor in 2003, where she hosted the show, "Great Day SA".  In 2005, she moved to Los Angeles to join Frank Buckley as co-anchor for the KTLA Prime News on weekends.  In 2007, Lu Parker began to co-anchor the weekday "KTLA Morning News" with Cher Calvin.  She currently co-anchors the "KTLA Morning News" … and that is how I noticed her recently
Lu Parker also is the founder of the Lu Parker Project – a non-profit organization whose mission is, "to improve the lives of homeless animals and at risk youth through education, the arts, and community projects".  We at midlifebachelor.com admire and applaud Lu Parker's dedication to the community.
Here are two videos of Lu Parker.  The first is her "sizzle reel" which shows her in action as a reporter, and the second one is a very hhhhot video of her doing a photo shoot back in 2008.  Wow!
Typically at this point, we attempt to analyze our Woman of the Month pick in terms of the Midlifebachelor.com 14 Types of Women.  Which type or types do you suppose Lu Parker might be?  Well, she is certainly a Jackpot (see Types of Women – Jackpot) since she is a high income earner.  If you know Lu Parker personally and/or would to share something about her – please add a COMMENT to the comment section at the bottom of this page!