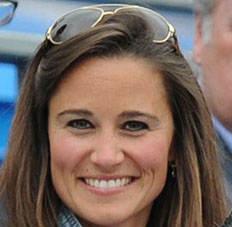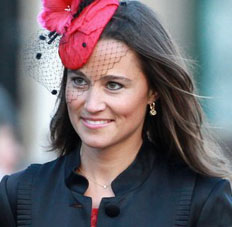 Pippa Middleton Update 11/11/2011:  We have received multiple reports today that Pippa Middleton just split with her long-term boyfriend of three years, Alex Loudon, after a number of nasty arguments. So she is back on the market, gentlemen – this is great news!!!
Pippa Middleton, younger sister of Catherine, Duchess of Cambridge (formerly known as Kate Middleton), has been selected as the midlifebachelor.com Woman of the Month for November 2011!
Philippa Charlotte "Pippa" Middleton was born on September 6, 1983 in the United Kingdom. Her father is Michael Middleton, and her mother is Carole Middleton. Both parents worked in the airline industry in the 1980s, but went on to start and run a successful company named "Party Pieces" which makes and sells party supplies and decorations over the web.
Pippa Middleton attended Marlborough College in Wiltshire, and then went on to study English literature at the University of Edinburgh. Following graduation in 2008, Pippa Middleton worked for a public relations firm promoting luxury products, then she took on an events management job with Table Talk, a company based in London which organizes corporate events and parties. Also in 2008, Tatler magazine named Pippa Middleton "the Number 1 Society Singleton". Since then, she has often been described as a socialite. Often in concert with her older sister (Kate Middleton – who also happens to be a midlifebachelor.com Woman of the Month for May 2011), Pippa Middleton has received wide press coverage, focusing on her social life and her lifestyle.
Here at midlifebachelor.com, we simply think that Pippa Middleton is hot. She is also famous. Plus – we've had more Woman of the Month nominations come in for Pippa than for anyone else lately – so everyone else must also think she is hot. Is she the British version of Kim Kardashian? I don't know – like Kim Kardashian, she seems to be famous for a name-related association … or in Kim's case, maybe I should say ASSociation. ha ha
We tried unsuccessfully to find a video interview with Pippa Middleton – we'll keep looking. Be sure to let us know if you find one.
Typically at this point, we attempt to analyze our Woman of the Month pick in terms of the Midlifebachelor.com 14 Types of Women. Which type or types do you suppose Pippa Middleton might be? Well, she is certainly a Jackpot (see Types of Women – Jackpot) since she is the sister of the Duchess of Cambridge.  If you know Pippa Middleton personally and/or would to share something about her – please add a COMMENT to the comment section at the bottom of this page!
Click Here to see an Index of All Previous Women of the Month
Nominee for our Next Woman of the Month
Do you have a nomination for Woman of the Month? If so – please email us. We need you to include a good overall description of her, why you are nominating her, and also a URL that points to some information about her. We also need a non-copyrighted tasteful photo of her, or a URL that points to a photo. Serious consideration is given to women of achievement who have something other than their pretty smile to show off. In other words, the ideal Woman of the Month is intelligent, professional, well-dressed, good-looking, well-spoken, and would be considered a JACKPOT in midllifebachelor.com terminology. We prefer nominees who have nationwide exposure. Send your nominations to [email protected]

Do you have feedback for us concerning our content?
We would love to hear what you think about either our current Woman of the Month, or how we present our content here. Please bounce us an email with your feedback to [email protected]