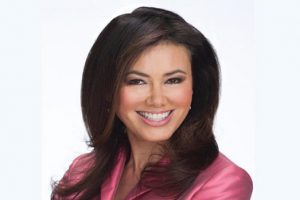 Lucy Noland, anchor of NBC4 News at Six and co-anchor of News at Noon in Los Angeles, has been selected as the midlifebachelor.com Woman of the Month for November 2012!
Lucy Noland is one of the calmest and yet most stunning of the Los Angeles-based news anchors that I've seen.  I really just noticed her recently when I happened to turn on the news while eating lunch.  She looks flawless – and I could not tell her ethnicity by looking at her.  She is actually half Vietnamese, and half Caucasian – and that combination works extremely well for her (and for the rest of us midlife bachelors). ha ha
Really good background information on Lucy Noland is a bit hard to find – so we here at midlifebachelor.com would appreciate anyone who can update what we show here.  She appears to have been born in 1965 in Saigon, Vietnam.  Her father worked for the U.S. government, and brought the family to the US sometime during Lucy's childhood.  We don't know much about her home life EXCEPT that she is apparently a single mother of three children.
Before joining NBC4 here in Los Angeles, Lucy Noland worked for several years in Houstin, TX at KHOU, and from 2004 to 2007, she worked in New York hosting Good Day New York at WNYW-TV.  Her early broadcasting career began at the University of Fairbanks, Alaska where she dj'ed for the school's radio station.  She interned at KATN-TV in Fairbanks – and eventually became a news anchor there.  Lucy held various reporting and anchor positions at other stations in San Francisco and Fresno before moving to New York.
Lucy Noland really is an exceptional news anchor, and I encourage you to watch her at 12:00 noon or 6:00 p.m. on NBC4 LA so you can see for yourself.  I could not find any good youtube videos that show Lucy in action for any significant length of time, but I did find this very short one that's pretty good …
Typically at this point, we attempt to analyze our Woman of the Month pick in terms of the Midlifebachelor.com 14 Types of Women. Which type or types do you suppose Lucy Noland might be? Well, she is certainly a Jackpot (see Types of Women – Jackpot) since she is a high income earner.  If you know Lucy Noland personally and/or would to share something about her – please add a COMMENT to the comment section at the bottom of this page!
Click Here to see an Index of All Previous Women of the Month
Nominee for our Next Woman of the Month
Do you have a nomination for Woman of the Month? If so – please email us. We need you to include a good overall description of her, why you are nominating her, and also a URL that points to some information about her. We also need a non-copyrighted tasteful photo of her, or a URL that points to a photo. Serious consideration is given to women of achievement who have something other than their pretty smile to show off. In other words, the ideal Woman of the Month is intelligent, professional, well-dressed, good-looking, well-spoken, and would be considered a JACKPOT in midllifebachelor.com terminology. We prefer nominees who have nationwide exposure. Send your nominations to [email protected]

Do you have feedback for us concerning our content?
We would love to hear what you think about either our current Woman of the Month, or how we present our content here. Please bounce us an email with your feedback to [email protected]