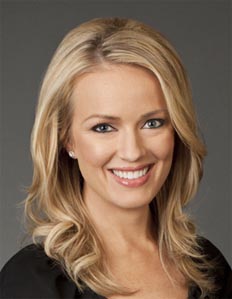 Brooke Anderson, co-anchor of The Insider, has been selected as the midlifebachelor.com Woman of the Month for October 2011!
Now I have to admit that I'm not a typical fan of entertainment reporting – but when I come back from the gym at 7 p.m., and sit down to have dinner sometime between 7:20 and 8:00 p.m. – I usually find myself staring at Entertainment Tonight, followed by The Insider. I was a huge fan of Lara Spencer – who recently left The Insider, and when Lara left, Brooke stepped in. I was skeptical at first – because I thought Brooke Anderson is way too perfect-looking to be any good at reporting … but I was wrong wrong wrong. She is actually extremely good, and (of course) she is exceptionally hot.
Brooke Victoria Anderson was born May 13, 1978 – so she is only 33 years old … one of our younger Women of the Month. Prior to landing on The Insider, she was a culture and entertainment anchor for CNN, and was co-host of HLN's Showbiz Tonight. She graduated in 2000 with honors from the University of Georgia's Henry W. Grady College of Journalism and Mass Communication with a bachelor's degree in broadcast journalism. She is a member of Kappa Delta Sorority. She is currently married to James Arthur "Jim" Walker, III and had her first child in May 2009, a girl named Kate Victoria Walker.
Brooke's new boss, the incredible Linda Bell Blue (Executive Producer of Entertainment Tonight and The Insider) was quoted as saying, "I'm a huge fan of Brooke both professionally and personally. I've admired her work on HLN and am thrilled that she is joining our Insider family. Brooke is such a well rounded broadcaster – smart, inquisitive, experienced, and grounded. She's everything you'd want in a co-anchor and the perfect fit to sit at The Insider desk with our Kevin Frazier." And if Linda Bell Blue thinks that highly of Brooke, then she has to be phenomenal!
Here is a video of Brooke Anderson in action. I couldn't find a good one of her on The Insider so I had to use this slightly older one of her when she was at CNN …
Typically at this point, we attempt to analyze our Woman of the Month pick in terms of the Midlifebachelor.com 14 Types of Women. Which type or types do you suppose Brooke Anderson might be? Well, she is certainly a Jackpot (see Types of Women – Jackpot) since she is a red hot entertainment reporter.  If you know Brooke Anderson personally and/or would to share something about her – please add a COMMENT to the comment section at the bottom of this page!
Click Here to see an Index of All Previous Women of the Month
Nominee for our Next Woman of the Month
Do you have a nomination for Woman of the Month? If so – please email us. We need you to include a good overall description of her, why you are nominating her, and also a URL that points to some information about her. We also need a non-copyrighted tasteful photo of her, or a URL that points to a photo. Serious consideration is given to women of achievement who have something other than their pretty smile to show off. In other words, the ideal Woman of the Month is intelligent, professional, well-dressed, good-looking, well-spoken, and would be considered a JACKPOT in midllifebachelor.com terminology. We prefer nominees who have nationwide exposure. Send your nominations to [email protected]

Do you have feedback for us concerning our content?
We would love to hear what you think about either our current Woman of the Month, or how we present our content here. Please bounce us an email with your feedback to [email protected]