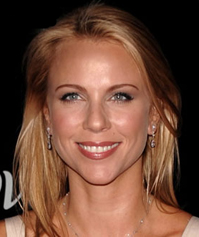 Lara Logan, Chief Foreign Affairs correspondent for CBS News, is midlifebachelor.com's pick for our September 2009 Woman of the Month. I usually watch the west coast edition of CBS News at 6:30 p.m., and on any given day I typically find myself staring at a report from Lara Logan over in Iraq or Afghanistan. Sometimes she shows up on 60 Minutes, too. Every time I see that woman, I think of two things … first, I love that sexy South African accent of hers, and second, I marvel at the outstanding combination of brains and beauty she possesses. Of all of our previous Woman of the Month picks – I'd guess that Lara Logan would probably be the most interesting, well-rounded, and well-traveled to speak to. She is truly awesome!
Here is what we know about Lara Logan. She was born March 29, 1971 in Durban, South Africa – so she is 38 years old (and looking excellent). She graduated in 1992 from the University of Natal in Durban. She worked as a producer for Reuters Television from 1992 to 1996, and then as a general news reporter for the Daily News from 1990 to 1992, then for the Sunday Tribune from 1998 to 1999 – in South Africa. She then went on to work as a television journalist for GMTV from 2000 to 2002. While working in Afghanistan in 2001, she was able to secure an interview with General Babajan of the Northern Alliance (which was working with the U.S. at the time against the Taliban). Since 2002, she has been working in Iraq and Afghanistan and elsewhere in the Middle East working as an embedded reporter with combat troops for CBS. She did such an exceptional job for CBS News that they named her Chief Foreign Correspondent in February 2006.
In terms of Lara Logan's personal life – we understand she has been married twice. Her current (second) husband is a federal contractor from Texas – and they have one son who was born in January 2009.
There are a ton of youtube videos of Lara Logan in action, but I chose this one – which is a personal interview with Lara just so you can get a better feel for who she is.
Typically at this point, we attempt to analyze our Woman of the Month pick in terms of the Midlifebachelor.com 14 Types of Women. Unfortunately we don't know Lara Logan personally, so we pretty much have to guess. She is definitely a Jackpot (see Types of Women – Jackpot) since she is a high income earner. Which of our other 14 Types of Women do you think Lara Logan might be???
Click Here to see an Index of All Previous Women of the Month
Nominee for our Next Woman of the Month
Do you have a nomination for Woman of the Month? If so – please email us. We need you to include a good overall description of her, why you are nominating her, and also a URL that points to some information about her. We also need a non-copyrighted tasteful photo of her, or a URL that points to a photo. Serious consideration is given to women of achievement who have something other than their pretty smile to show off. In other words, the ideal Woman of the Month is intelligent, professional, well-dressed, good-looking, well-spoken, and would be considered a JACKPOT in midllifebachelor.com terminology. We prefer nominees who have nationwide exposure. Send your nominations to [email protected]

Do you have feedback for us concerning our content?
We would love to hear what you think about either our current Woman of the Month, or how we present our content here. Please bounce us an email with your feedback to [email protected]