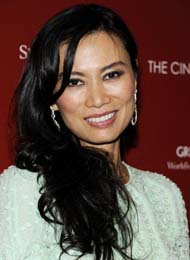 JUNE 14, 2013 UPDATE – Wendi Deng is divorcing Rupert Murdoch, so she is now 100 percent available!!  Yes!!  Maybe one of us midlife bachelors will be lucky enough to date her! Here is an article that describes her split from Rupert.
Wendi Deng Murdoch, wife of News Corporation CEO Rupert Murdoch (and who recently slapped a man who was trying to throw a pie at her husband), has been selected as the midlifebachelor.com Woman of the Month for September 2011!
At midlifebachelor.com, we try to select each Woman of the Month based on somewhat loose criteria – but which generally include overall hotness, some level of achievement and/or national exposure, and also occasionally we toss in an unexpected attribute, as is the case here. Wendi Deng Murdoch is certainly very hot, and a very accomplished News Corporation executive (which we admire) – but what pushed me toward selecting her for this month was the incident in which she slapped down a man who was about to throw a pie at her husband, Rupert Murdoch, on July 19, 2011 while Rupert was testifying about one of his divisions' phone hacking scandal.
Here is a video of the incident, and watch how Wendi Deng Murdoch jumps on this guy and slaps him down. She was faster than Rupert's body guards – and that is commendable. This is the type of wife I want someday:
Here's what we know about Wendi Deng Murdoch. She was born in December 1968 in China. She was originally enrolled in Guangzhou Medical College in China at age 16 when she met an American businessman and his wife, Jake and Joyce Cherry, while Jake was in China temporarily for work. The Cherry's helped Wendi with her English, and offered to sponsor her student visa – and in 1988, Wendi came to the USA, and enrolled at Cal State Northridge. She earned her BA in Economics, and then an MBA from Yale. After Yale, she started working for News Corporation's Fox TV – and wound up helping plan Star TV's operations in Hong Kong and China, as a junior executive. She met Rupert Murdoch at a company party in 1997, and married him in 1999.
Wendi Deng has recently become a director for the holding company that licenses the MySpace brand and technology to MySpace China, her first formal involvement in the media business since she left her job as a junior executive at the company's Star TV in Hong Kong in 1999. Deng has led her husband's Chinese internet investments totaling $35M to $45M. She has also formed strategic business links with China for high-speed video and internet access, and is now chief of strategy for MySpace's China operation. Wendi Deng is an incredibly impressive woman – we would love to meet her and/or interview her the next time she finds herself in the Los Angeles area!
Typically at this point, we attempt to analyze our Woman of the Month pick in terms of the Midlifebachelor.com 14 Types of Women. Which type or types do you suppose Wendi Deng Murdoch might be? Well, she is certainly a Jackpot (see Types of Women – Jackpot) since she is a News Corporation executive, and wife of the CEO.  If you know Wendi Deng Murdoch personally and/or would to share something about her – please add a COMMENT to the comment section at the bottom of this page!
Click Here to see an Index of All Previous Women of the Month
Nominee for our Next Woman of the Month
Do you have a nomination for Woman of the Month? If so – please email us. We need you to include a good overall description of her, why you are nominating her, and also a URL that points to some information about her. We also need a non-copyrighted tasteful photo of her, or a URL that points to a photo. Serious consideration is given to women of achievement who have something other than their pretty smile to show off. In other words, the ideal Woman of the Month is intelligent, professional, well-dressed, good-looking, well-spoken, and would be considered a JACKPOT in midllifebachelor.com terminology. We prefer nominees who have nationwide exposure. Send your nominations to [email protected]

Do you have feedback for us concerning our content?
We would love to hear what you think about either our current Woman of the Month, or how we present our content here. Please bounce us an email with your feedback to [email protected]