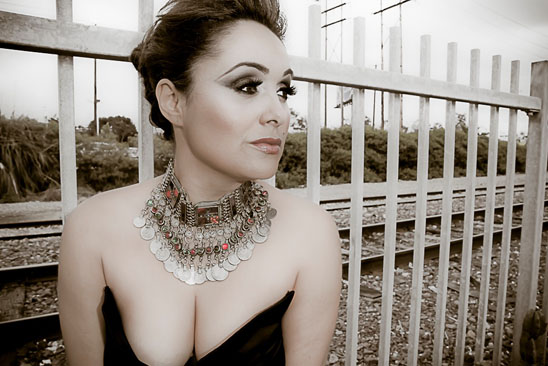 Elizabeth Espinosa, news reporter for KTLA, KFI radio personality, and co-host of CNN Latino's "Sin Limites" on KBEH-TV in Los Angeles, has been selected as the midlifebachelor.com Woman of the Month for September 2014!
I used to watch Elizabeth Espinosa quite a bit when she was on KTTV Fox 11 Morning News and Good Day LA, but she moved over to KTLA in 2007, and I have not seen her nearly as much as I would like to.  Elizabeth Espinosa is half Mexican and half Salvadoran – and was raised in the Los Angeles area, and is a UCLA graduate.
She started her career in journalism as an assignment desk editor for Telemundo KVEA-TV station.  She also was an assignment reporter for Telemundo's KVEA-TV in LA, for KSTS-TV in San Francisco, for Fox's XETV-TV in San Diego, and Univision's KMEX-TV in Los Angeles … and that was all before joining KTTV Fox 11 in LA where I first noticed her.  More recently, she has been a morning news reporter for KTLA in Los Angeles.  In the past several months, I've seen reports that she is now a part-time reporter at KTLA and recently started a daily radio broadcast with Mark Thompson on KFI from 1:00 p.m. to 3:00 p.m.
Elizabeth Espinosa has received many awards – including two Emmy's as a reporter and anchor at KTLA.  She recently hosted a special report about disabled and abandoned children in El Salvador.  In the past, she has produced several reports around the world – including one about the Hunted Children of Uganda, and also one about arranged marriages in Pakistan.  Elizabeth actively advocates for the disabled – she has a disabled younger brother, and her experiences growing up with him and caring for him have given her the motivation and voice she needs to bring awareness to causes associated with disabilities.
We are not sure if Elizabeth Espinosa is married – there are rumors that she got married in 2008, but those are unconfirmed.  We don't see a wedding ring on her finger in her photos, but that doesn't necessarily mean anything.  If she is married, then her husband is certainly a lucky man – to have such a stunning and intelligent woman as his wife.  Plus she can probably support him, too.  ha ha  Just kidding, Elizabeth.
Typically at this point, we attempt to analyze our Woman of the Month pick in terms of the Midlifebachelor.com 14 Types of Women.  Which type or types do you suppose Elizabeth Espinosa might be?  Well, she is certainly a Jackpot (see Types of Women – Jackpot) since she is a high income earner.  If you know Elizabeth Espinosa personally and/or would to share something about her – please add a COMMENT to the comment section at the bottom of this page!