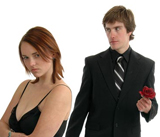 As a single person, we all make mistakes out in the dating world.  If you are freshly single, you tend to make some fairly stupid mistakes related to etiquette – like assuming too much about a woman or a relationship, or being nervous, or not really knowing what you are doing, etc.   For those of us who have been around the block once or twice (ha), being someone's WORST DATE EVER takes on a whole new meaning. Although it can be quite an accidental art form, in most cases it is just flat out stupid.  Part of the majesty of being single is one's ability to go out and make dumb mistakes … not repeat them … and hopefully laugh about them later.  As long as you learn from your mistakes, you're fine.
I've lived with my present girlfriend for several years – and I'd say this relationship (among other things) brings me stability.  Prior to her, however, I went through phases where I found myself in various highly entertaining situations … not all of which turned out well.  For example, what I'm about to describe is an evening where I'm quite positive I turned out to be THE WORST DATE EVER for the woman I was out with.  I, myself, have been out with different women who could compete for being MY worst date … but I thought it would be fun today (New Year's Day) to write something critical about myself.  ;o)
Cindy was a tall good-looking redhead – several inches taller than me, in fact.  I had known Cindy for roughly ten years … and for quite some time our relationship consisted of us hooking up maybe once or twice a year for a date which almost always ended up in screaming hot sex.  I didn't see her more than maybe twice a year because she lived in Santa Barbara – which made her "geographically undesirable" in terms of being a regular girlfriend or lover.  Neither of us wanted to trade in our respective jobs and move – as we just weren't that interested in one another.   We had sex … great sex … but that was where our mutual interest ended.  She was also pretty fun to party with – we'd usually go out to a restaurant or club, and party pretty well before the real entertainment got started at either her place, or at my hotel.
So on one such six-month-ish encounter, we were out at some high-end Mexican restaurant in Santa Barbara that I had never been to – and Cindy insisted we order a pitcher of margaritas.  I love margaritas so I was all for it.  We sat there for several hours having dinner, and downing margarita after margarita.  Now for whatever reason – that night we both drank way too much … especially me.  I remember telling Cindy that I was too drunk to continue going to different places – and her outstanding solution was for us to go back to her place, and get naked.