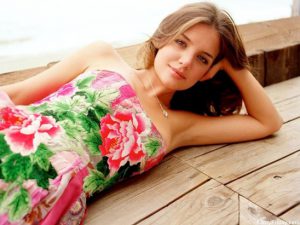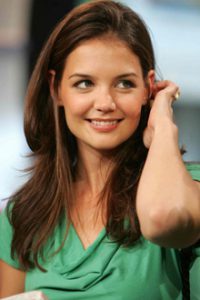 Katie Holmes, well-known actress and now former wife of Tom Cruise, has been selected as the midlifebachelor.com Woman of the Month for August 2012!
Why would a website dedicated to male midlife bachelorhood throw its support behind a woman who is divorcing one of Hollywood's best known actors?  The answer is simple – we applaud Katie Holmes in a huge way for doing what she obviously believes is the right thing for both herself and for her daughter, Suri.  According to several reports we have read in the Los Angeles Times, Katie Holmes avoided early detection of her plan to start divorce proceedings by using a disposable phone to contact her attorney.  [The fact that she had to do this might give the world a clue about whether or not she was being watched – she obviously believed she was being surveiled, otherwise she would not have had to go to such lengths.]  We also applaud Katie Holmes for executing on the divorce while her husband was on a remote movie set in Iceland, shooting a movie.  One could guess this was done to catch him off guard, and limit his ability to respond publicly … which is brilliant.
Since this is a male midlife bachelor site – why aren't we supporting Tom Cruise?  That reason is simple – Mr. Cruise had some very unflattering things to say in the past about psychiatry … and I'll personally never forget his disparaging comments about Brooke Shields, and her post partum depression back in 2006.  I've known several women in my past who have had post partum depression – and I can assure Tom Cruise that it is real … and that drugs are the best way to treat it.  I could write a few pages on this subject alone, but I won't waste our time … the only thing that matters is that we at midlifebachelor.com believe that at least some of Tom Cruise's views on an array of different subjects are objectionable.
Normally we write a lot about our Woman of the Month's background and history – but not this time.  You can read up on Katie Holmes' history by googling her, if you wish.  This month, we at midlifebachelor.com celebrate the FUTURE of Katie Holmes … good luck to her … we know she made the best decision possible!  Perhaps young Suri will be raised Roman Catholic … which sounds so much better than any other alternative.
Here is a fairly recent video of the lovely Katie Holmes appearing on the David Letterman show (before the divorce was announced) …
Typically at this point, we attempt to analyze our Woman of the Month pick in terms of the Midlifebachelor.com 14 Types of Women.  Which type or types do you suppose Katie Holmes might be?  Well, she is certainly a Jackpot (see Types of Women – Jackpot) since she is a high income earner.  If you know Katie Holmes personally and/or would to share something about her – please add a COMMENT to the comment section at the bottom of this page!