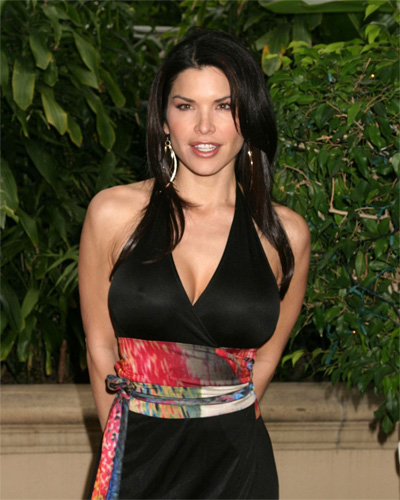 Lauren Sanchez, Los Angeles-based KCOP-TV My13 and the recently-canceled Fox11 entertainment show called That's So Hollywood show, has been selected as the midlifebachelor.com Woman of the Month for December 2008!
JANUARY 2019 UPDATE – Lauren Sanchez is dating Jeff Bezos, CEO of Amazon.  That's all we know at the moment.  Wow!  Nice work, Jeff!
Here is what we know about this very hot, very sexy Latina host and entertainment news reporter.  Lauren Sanchez is roughly 39-years old – our research shows that she graduated in 1985 from a high school in Albuquerque, NM, and then from USC where she studied Communications.  She landed her first job as a desk assistant as KCOP-TV Los Angeles … and from there worked as an anchor/reporter at KTVK-TV in Phoenix.  She also worked as a reporter for the syndicated TV show Extra and then as an entertainment reporter for FSN's Best Damn Sports Show Period.  In 1999, Lauren Sanchez was one of two finalists for Barbara Walter's The View … and subsequently went back to work for KCOP-TV in Los Angeles … which is owned by Fox, and was one of three hosts for the That's So Hollywood show.  She currently works with Rick Garcia as co-anchor for the 11 p.m. news on KCOP-TV channel 13 in Los Angeles.
Lauren Sanchez has led a very full and colorful personal life.  Before marrying actor Patrick Whitesell in a $2M wedding in September 2005, Lauren had been engaged to pro football player Anthony Miller, and also to NYPD Blue actor, Henry Simmons.  Lauren Sanchez has two sons and one daughter.  Her oldest son, Nikko, was fathered by Kansas City Chiefs All Pro tight end Tony Gonzalez.  Her other son and daughter are from her current husband, Patrick Whitesell.
There are tons of excellent photos of Lauren Sanchez available on the web – so many, in fact, that I had a hard time figuring out which ones to choose.  At the top are several of the best ones I could find – but if you want more photos of Lauren, just do a google image search on her.  I also enjoy giving midlifebachelor.com a chance to watch our Woman of the Month in action – so in keeping with that tradition here the video below is a roughly two minute clip compilation of Lauren.  Check out the white top she is wearing toward the end of the video – that is so hot!  And the glasses she wears in several of the segments – wow … she seriously embodies "sexy librarian" type look there.
Typically at this point, we attempt to analyze our Woman of the Month pick in terms of the Midlifebachelor.com 14 Types of Women.  Which type or types do you suppose Lauren Sanchez might be?  Well, she is certainly a Jackpot (see Types of Women – Jackpot) since she is a high income earner.  If you know Lauren Sanchez personally and/or would to share something about her – please add a COMMENT to the comment section at the bottom of this page!