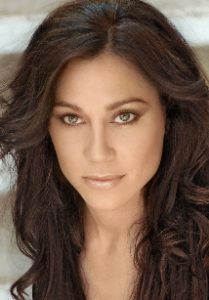 Jennifer Dawson, Party Girl Plus One Actress and Creator, has been selected as the midlifebachelor.com Woman of the Month for February 2010!
I am a huge fan of Jennifer Dawson's Party Girl Plus One web series – which you can see at www.partygirlplusone.com.  You can also find her web series at www.youtube.com/partygirlplusone.  Jennifer's web series is based on her more memorable post-divorce dating experiences from her perspective.  Not only are these episodes entertaining – they also teach you something … which is her goal – narrating what we all do wrong looking for love.  I often post these videos in our Midlife Dating Forum, and add my comments concerning what I, as a midlife bachelor, think the real lesson is.  I love the whole Party Girl Plus One web series theme of hers.  And if you've read much of midlifebachelor.com, then you know that I'm a big fan of party girls the world over – see the section here on midlifebachelor.com called Types of Women – Party Girl, for example.
Here's the scoop on Jennifer Dawson.  She is the youngest of 4 children … born and raised in Miami, Florida where she began her theatrical career working in commercials and hosting a wide array of shows.  After the break up of her 7 year marriage, she moved to Los Angeles with only a few numbers in her pocket, and knowing just a handful of people.  Close to four years later, Jennifer landed herself a recurring role on AMC's hit TV show, MADMEN, as the character Ethel.  Jennifer also spent some time in NYC working in small theater productions, as well as attending a summer program at the Atlantic Theater Company.  In addition to her roles on MADMEN and her web series, Party Girl Plus One, she can be seen on national and regional commercials, and is also currently studying with Ivana Chubbuck here in Los Angeles.
As creator of the Party Girl Plus One web series, Jennifer Dawson wears many hats including (but not limited to) Executive Producer, Writer, Lead Actress, and is involved and invested in every aspect of the web series' production.  Many people have asked Jennifer if these episode stories are really true.  The dating diary covers the time span of approximately 4 years, and over 100 dates.  If you've encountered some of these stories and people, then you can decide for yourself.
"That's the beauty of dating.  You never know what you're going to get until you get out there and do it.  And it's fun.  You can't take dating so seriously.  You have to go in with an open mind and understand that if someone's not for you, then they're not for you."
Jen's above quote and several of her episodes align with several midlifebachelor.com themes, including:
ALWAYS GO FOR IT  This is the midlifebachelor.com golden rule of post-divorce dating.  If you don't know what to do in any given situation, simply refer to that rule … it always applies.  It basically means "test the boundaries" – and is both universal and independent of dating.
Don't take things personally when dating and things don't work out.  Better to try, fail, and learn from your mistakes which I call fine-tuning the machine (you are the machine).  Even a Ferrari needs a tune-up once in a while, right?  So does everyone.
"No" means "Yes", and "Yes" means "HARDER".  This is a little piece of humor that I enjoy telling guys who have just divorced after a long marriage – and who ask me what they need to know when dating in our 40s.  It usually scares them!
Here's Jennifer Dawson in action.  It is the fourth episode from her Party Girl Plus One web series …
Typically at this point, we attempt to analyze our Woman of the Month pick in terms of the Midlifebachelor.com 14 Types of Women.  Which type or types do you suppose Jennifer Dawson might be?  Well, she is certainly a Jackpot (see Types of Women – Jackpot) since she is a high income earner.  If you know Jennifer Dawson personally and/or would to share something about her – please add a COMMENT to the comment section at the bottom of this page!