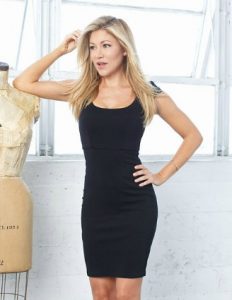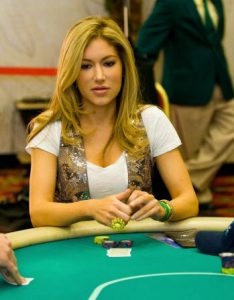 Midlifebachelor.com has selected Jackie Johnson of the Los Angeles-based television station KCAL-TV channel 9 and also KCBS-TV Channel 2 as our Woman of the Month for January 2008.  What better way to kick off the new year than with our hottest female newscaster (weather reporter, in this case) selection EVER?   Wow – Jackie Johnson is absolutely that hot!
Here is what we know about Jackie.  Before coming to LA, she worked as a weatherperson and television personality at WSVM in Miami, and previous to that she worked at WCTV in Tallahassee, Florida.  She was born in Plymouth, Michigan – and attended the University of South Alabama, and later Middle Tennessee State University where she earned her degree in broadcast journalism.
No surprise – but in 2003, Jackie Johnson was selected "hottest" meteorologist in an online poll by Playboy Magazine® … which offered her a nude celebrity pictorial in the pages of Playboy®, but (thankfully) she declined.
I'd love to tell you more about Jackie Johnson … like whether she is married or divorced, what great things she does outside of her on-air personality, but there is precious little information about her available.  Maybe she will see this article, and tell us more about herself?  Maybe not!  Personally, I just like the way that she delivers the weather … she has a calm, cool, and comfortable style about her that seems to say, "it's gonna be okay".   I also really like the way that Jackie Johnson dresses – conservative, but in such a way that you can still see what a great overall package she really is.  Here is a sample of what we see here in LA when she goes on-air:
Okay – so even though we do not actually personally KNOW our selection for Woman of the Month, we typically throw out a theoretical analysis of the candidate in midlifebachelor.com terminology (See Types of Women in Fundamental Truths about Women and Midlife Dating Today) … if for no other reason than to help make the reader aware of some of the other resources available on this site.   Jackie Johnson strikes me as a super-conservative, professional woman who is probably married or divorced with children.   With that observation as a backdrop, we know that she is definitely a Jackpot (see Types of Women – Jackpot) since she is obviously a high income earner with a professional career.   Since we guess that she is married or divorced with children, then she could be the Housewife type (see Types of Women – Housewife) … which simply means she is a Mom.   And let's face it, Jackie Johnson has got to be High Maintenance (see Types of Women – High Maintenance) because she cannot look that good without spending some significant time in a spa, right?  There are many other types of women that Jackie Johnson COULD BE … for fun, take a look at the different types, and imagine if she has a different side that we are not exposed to ;o)
Since the birth of midlifebachelor.com in late April 2007, I have typically chosen Women of the Month who are national figures of one sort or another … women who are universally recognized for their respective contributions to journalism or acting, etc.  I have diverged somewhat from that strategy over the last several months because frankly, it has been difficult to find really good-looking women who impress me … and who are not already showered with media attention.  [I have purposely tried to steer clear of most Hollywood actresses, as I doubt they would appreciate the honor we believe we bestow with our "Woman of the Month" title ;o) ].   Gina Silva was my first local-to-LA selection for Woman of the Month in November 2007.  Gina Silva is not only stunning, she is an extremely well-rounded person who gives to the community … and who has a great story behind her professional rise in the highly competitive LA broadcast journalism market.  My point – unless I start hearing some great suggestions from our readers, in the future you can likely expect me to focus more on local Southern California media personalities.
Click Here to see an Index of All Previous Women of the Month
Nominee for our Next Woman of the Month
Do you have a nomination for Woman of the Month? If so – please email us. We need you to include a good overall description of her, why you are nominating her, and also a URL that points to some information about her. We also need a non-copyrighted tasteful photo of her, or a URL that points to a photo. Serious consideration is given to women of achievement who have something other than their pretty smile to show off. In other words, the ideal Woman of the Month is intelligent, professional, well-dressed, good-looking, well-spoken, and would be considered a JACKPOT in midllifebachelor.com terminology. We prefer nominees who have nationwide exposure. Send your nominations to [email protected]

Do you have feedback for us concerning our content?
We would love to hear what you think about either our current Woman of the Month, or how we present our content here. Please bounce us an email with your feedback to [email protected]