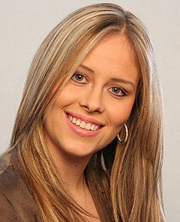 Midlifebachelor.com has selected Stella Inger of KPSP-TV CBS Local 2 News Palm Springs as our Woman of the Month for August 2008!  Thanks to an anonymous midlifebachelor.com reader from the Palm Springs area for nominating Stella – we think she is awesome, and since midlifebachelor.com is physically located in the Los Angeles area, we would never have seen Stella ourselves (in the absence of the nomination) because we don't get the desert-area television stations here.   My guess is that Stella Inger won't be in the desert for long – with talent and looks like hers, I think she is destined next to be on-air at one of the LA area stations … possibly even one of the national news networks like Fox News or CNN.  Being a big fan of Fox News, I'd say she is most definitely Fox News material.
Here is what we know about Stella Inger.  She appears to be roughly 25 years old … I say "appears to be" because USC Annenberg TV News states that she graduated from USC in 2005 with a BA in Broadcast Journalism.  Stella Inger also appears to be single … we have studied the youtube video of her (below), and also the photo of her at the very top (above), and we cannot see any wedding ring on her finger.   Stella Inger was born in Russia, and came to the US when she was just 7 years old … where she grew up in Sherman Oaks, CA.  She attended Los Angeles Valley College before transferring to USC.   While attending USC, Stella worked as a personal banker … and then after she graduated, she first got a job as a reporter at KXLF-TV in Bozeman, Montana, then subsequently moved to KESQ-TV in Palm Desert, CA.   As I mentioned, she is currently at KPSP-TV in Palm Springs where she is the weekend anchor at 6 p.m. and 11 p.m., and where she also reports on weekday evenings.
Stella's broadcast journalism achievements include being nominated for an Emmy award for her piece entitled "Americans Converting to Islam After  9-11".  In June 2008, the Desert Sun newspaper nominated Stella Inger as Best Television Personality.  Stella Inger has been described in many ways – one of my favorites is "Stella is blessed with a deep broadcast voice, and has looks that could stop traffic" (per jewsweek.com).  I have to admit that I definitely agree with the guys over at jewsweek.com!
Okay – behold Stella Inger in action in the youtube compilation video below …
Stella Inger is truly a remarkable young television journalist, and we at midlifebachelor.com applaud her.  We absolutely believe she is destined for bigger and better roles in broadcast journalism so definitely stayed tuned, and watch for Stella's rise.
Okay – so often at this point, we attempt to analyze our Woman of the Month pick in terms of the Midlifebachelor.com 14 Types of Women.  Unfortunately we don't know Stella personally, so it is hard to guess at anything more than the obvious … such as that she is a Jackpot (see Types of Women – Jackpot) because she is currently most likely a fairly high income earner, and is destined to become a very high income earner as her career progresses.   What other of the 14 Types of Women might Stella Inger be?  You tell me!
Click Here to see an Index of All Previous Women of the Month
Nominee for our Next Woman of the Month
Do you have a nomination for Woman of the Month? If so – please email us. We need you to include a good overall description of her, why you are nominating her, and also a URL that points to some information about her. We also need a non-copyrighted tasteful photo of her, or a URL that points to a photo. Serious consideration is given to women of achievement who have something other than their pretty smile to show off. In other words, the ideal Woman of the Month is intelligent, professional, well-dressed, good-looking, well-spoken, and would be considered a JACKPOT in midllifebachelor.com terminology. We prefer nominees who have nationwide exposure. Send your nominations to [email protected]