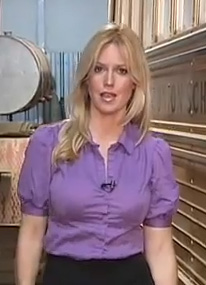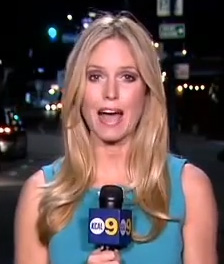 Brittney Hopper, reporter for CBS 2 and KCAL 9 in LA, has been selected as the midlifebachelor.com Woman of the Month for December 2013!
I just recently noticed Brittney Hopper reporting on two of my favorite news stations – CBS2 and KCAL 9 in the Los Angeles area.  She is young and fresh – articulate, and well-spoken … and in my view, an excellent up-and-coming news reporter.  Biographical information on Brittney Hopper is extremely hard to find – we do know that she graduated from San Francisco State University, with a Bachelor's degree in Broadcast Journalism … but we don't know what year she graduated.  We can guess somewhat based on her employment history – she apparently worked as a reporter at CBS 47 in Fresno, CA from May 2010 to November 2012. So if she started at CBS 47 after graduating from SFSU, then that would make her roughly 24 or 25 years old today.  As far as how long she's been at CBS2 and KCAL9, we are not certain of that – because those stations do not have a biographic web page up for her … which seems a bit odd, because she is such a great report (and so very hot).
As far as Brittney Hopper's marital status – we just don't know.  The only personal comments we were able to find on the web about her are in her own words, "SoCal native, beach girl, dog lover, thinker, dreamer, news junkie!!!".  So there you go!  Brittney – if you are reading this and want your increasing fan base to know a little more about you, then please send us an email via our Contact Us page, or leave a COMMENT at the bottom of this page.
Here are several videos of Brittney Hopper in action – including her demo video …
Typically at this point, we attempt to analyze our Woman of the Month pick in terms of the Midlifebachelor.com 14 Types of Women.  Which type or types do you suppose Brittney Hopper might be?  Well, she is certainly a Jackpot (see Types of Women – Jackpot) since she is a high income earner.  If you know Brittney Hopper personally and/or would to share something about her – please add a COMMENT to the comment section at the bottom of this page!