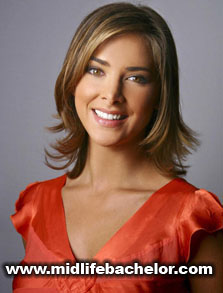 Melissa Theuriau of the French TV magazine, Zone interdite, ("Forbidden Zone") has been named midlifebachelor.com's Woman of the Month for January 2010!
Let's face it – the last year and half or so has been really rough for everyone. Well, folks, what we have here is a new decade in front of us … the 201X's. And to kick off our new decade, I thought that a really fresh face from beyond America's shores would be ideal. And voila – we have Melissa Theuriau!  Thanks to my friends over at WorldsHottestAnchorWoman.com for nominating Melissa!
Now I'll be honest, in November, I spent some time in Spain, France, and Italy … and I was amazed at how hot ALL of the women in that part of the world are. Had I not brought my girlfriend with me on that trip, then I probably would still be over there. If you have not traveled to the Mediterranean, you should definitely do so.
Now I don't speak French (except sometimes after midnight, to my girlfriend), so I don't have a ton of biographical information on Melissa Theuriau to share. She received her undergraduate degree in News-Communication from the Technical University (Institut universitaire de technologie or IUT) Pierre Mendes-France in Grenoble, and later received her Master's degree in Audiovisual Journalism from the Institute of Communication and Media (ICM) at Echirolles
She was a reporter at Match TV in 2002. In 2003, she started as a reporter and anchor for La Chaine Info, where she became better known to the French general public. She made her breakthrough as a newscaster and travel show host for LCI, the news channel and for TF1. Since September 2006, Melissa has been editor-in-chief and presenter of Zone interdite on M6. She also presents Un jour, une Photo and Deux, trois jours avec moi on the French TV channel Paris Premiere.
In March 2007, she launched, with five other journalists (Claire Chazal, Marie Drucker, Laurence Ferrari, Beatrice Schonberg, and Tina Kieffer), the organization "La Rose", which works with UNICEF to help educate girls.
Here is a video of Melissa in action as a reporter – however, it is all in French …
Typically at this point, we attempt to analyze our Woman of the Month pick in terms of the Midlifebachelor.com 14 Types of Women. Unfortunately we don't know Melissa Theuriau personally, so we pretty much have to guess. She is definitely a Jackpot (see Types of Women – Jackpot) since she is a high income earner. Which of our other 14 Types of Women do you think Melissa might be???
Click Here to see an Index of All Previous Women of the Month
Nominee for our Next Woman of the Month
Do you have a nomination for Woman of the Month? If so – please email us. We need you to include a good overall description of her, why you are nominating her, and also a URL that points to some information about her. We also need a non-copyrighted tasteful photo of her, or a URL that points to a photo. Serious consideration is given to women of achievement who have something other than their pretty smile to show off. In other words, the ideal Woman of the Month is intelligent, professional, well-dressed, good-looking, well-spoken, and would be considered a JACKPOT in midllifebachelor.com terminology. We prefer nominees who have nationwide exposure. Send your nominations to [email protected]

Do you have feedback for us concerning our content?
We would love to hear what you think about either our current Woman of the Month, or how we present our content here. Please bounce us an email with your feedback to [email protected]