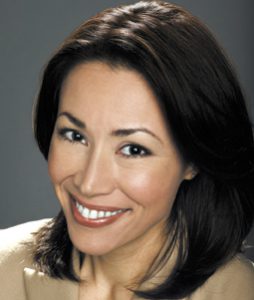 I love watching Ann Curry on the NBC Today Show and Dateline NBC.  She is the oldest Woman of the Month that we have chosen thus far here on MidlifeBachelor.com – she was born on November 19, 1956 … which makes her fifty-one years old.  I like Ann Curry because I think she is extremely good looking plus she has a certain relaxed way about her that is very attractive (especially to those of us men who have been yelled at for years by our wives and/or girlfriends … ha ha ha!).
Now I have to admit that I don't normally watch too much of Ann Curry on TV.  Most of the times that I've seen her have been on Dateline NBC … but I have watched clips of her from the NBC Today Show, and she is simply outstanding.  I love the way she carries herself on the air.   In terms of looks – she is very good-looking … and is actually multiracial.  Her mother is Japanese, and her father is American.  She is currently married to a software executive named Brian Ross … who she met in college.  She has two children, and the family lives in NYC.
Ann Curry has had an excellent career in broadcast journalism.  Between 1978 and 1984, she was a reporter and news anchor in the Oregon area near where she went to college.  She then came to KCBS-TV in Los Angeles where she was an Emmy-winning reporter between 1984 and 1990.  She then went to NBC news in Chicago, and shortly thereafter moved on to New York where she started on the Today show and Weekend Today.  In May 2005, she became co-anchor of Dateline NBC with Stone Phillips, and remained primary anchor when Stone left the show this past June.  She also continues as news anchor on NBC's Today … and she is a substitute anchor on the NBC Nightly News.  Very impressive, Ann!
Sure there are many other pretty faces on the national news that we could have chosen as "Woman of the Month" … but Ann Curry is our current choice because more so than the others, she has star power.  She is definitely a Jackpot (see Types of Women – Jackpot).  She is also probably High Maintenance (see Types of Women – High Maintenance) … but I'd guess that she is less high maintenance than some of our prior Woman of the Month selections.  If you watch Ann Curry on TV, my guess is that you will conclude (as I have) that she is extremely conservative.   Just for fun, take a look at the different Types of Women in the Fundamental Truths about Women and Midlife Dating Today section, and see what other type or types Ann might be.   Here is a good video I found on youtube of Ann's 10-year anniversary on the Today Show which shows a number of mini-clips of her over the years …
Click Here to see an Index of All Previous Women of the Month
Nominee for our Next Woman of the Month
Do you have a nomination for Woman of the Month? If so – please email us. We need you to include a good overall description of her, why you are nominating her, and also a URL that points to some information about her. We also need a non-copyrighted tasteful photo of her, or a URL that points to a photo. Serious consideration is given to women of achievement who have something other than their pretty smile to show off. In other words, the ideal Woman of the Month is intelligent, professional, well-dressed, good-looking, well-spoken, and would be considered a JACKPOT in midllifebachelor.com terminology. We prefer nominees who have nationwide exposure. Send your nominations to [email protected]

Do you have feedback for us concerning our content?
We would love to hear what you think about either our current Woman of the Month, or how we present our content here. Please bounce us an email with your feedback to [email protected]