If you are a man of any age, with some extra cash … and you'd really like to have a very hot, early twenties girlfriend then keep reading because this article will explain exactly how you can achieve your objective – typically within a month or two.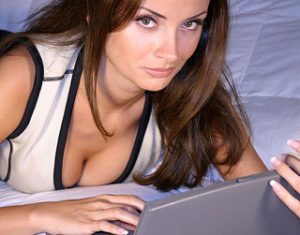 Here at midlifebachelor.com, I offer a high-end online dating profile writing service – and I was recently approached by a 47 year old wealthy male who asked me to write his profile for this particular sugar daddy website … which I previously was unfamiliar with.  I do periodically get questions about Sugar Daddy dating – and that was the source of my other article, entitled,
Sugar Baby Explains How Sugar Daddy Relationships Really Work
I told him I'd write his profile for free so long as he agreed to tell me 100% of everything he went through – good, bad, or indifferent … so that I could write this article about how to do this from a man's point-of-view.  He agreed.  What follows is what I learned.  I also updated this article on November 10, 2016 with some really good sugar dating reference information from www.trusted-dating.com.
WHAT IS SUGAR DADDY DATING?
Sugar daddy dating typically means simply that a younger, very hot woman will do whatever the two of you agree upon – and in exchange you help her out financially.  This is not prostitution because these young women do actually date you – you take them out just like you would any other date.  They will make out with you, they will go to dinner with you, or go wherever with you … and at the end of the evening (or at the beginning), you take them to bed.  From the sugar baby's viewpoint – you as the sugar daddy are expected to give her cash when you see her.  How much cash is something you negotiate when you meet her for the very first time – usually at a restaurant.  The amount will depend on how often you see her.  The individual who I interviewed for this article met two early 20s women … both of whom were extremely hot … both of whom were anxious to get him into bed … and both of whom "did" him starting either the first or second time he met them.  One wanted $340 each visit, and the other wanted $300 per visit.  He saw each woman once each week.  He did not date them both at once – the one who needed $340 per visit … he thought that was excessive, and so he went back to the site and found the other one for less.  And $300 woman was actually better-looking and more friendly than the $340 girl.
Now not all of the women on that website are there for exactly what I describe above.  There were two other women he met that simply wanted to date a man with money … and not exchange it as I described above.  One was a 21-year old college student – who the term "stunning" would be an understatement for.  The other was a 36-year old flawless-looking woman who has a professional career, and little time to date.  This 36-year old was looking for more of a friend with benefits type thing.  Both of these women would probably have expected some type of financial assistance – just not the direct pay-as-you-go method.
HOW TO GET STARTED THE RIGHT WAY ON SUGARDADDYFORME.COM
Use this link to sign up:

You really need to sign up for BOTH the Gold Membership AND ALSO the Total Access ($55/month total).  Gold Membership includes a number of benefits – unlimited everything, plus your profile is always highlighted, and it shows up at the top of any other members' search. Total Access means that everyone can respond to you – even non-paying members … and many of these young, very hot sugar babies don't have the extra money to pay for a membership, so that's why you need to pay for the $14.95/month Total Access.

You will need to come up with a user name, and also a short headline for your profile.  I suggest you keep everything sounding respectful.  You might consider putting something in your profile headline to attract the young hotties, using some choice words like maybe "generous", or "giving", or "kind", or "lavish" … such as "Kind and Generous Professional Seeks You", or something similar.

Ideally you should put up 3 or 4 good photos of yourself – but if you are a guy, you can probably get away with not posting any with public access.  The site allows you to give a password out to people you want to see your photos – so make use of that feature, if you wish.  Or you can simply email your photos to any sugar babies that contact you.  [Women – you will definitely need to post photos … otherwise you just won't get any attention, sorry.]

You will also need to come up with good answers for the two paragraphs they ask you for – one is "About Me", and the other is "What I'm Looking for".  I suggest keeping what you write brief, and very nice/respectful.  In the "About Me" section – the person I helped with his profile just stated the he is college-educated, and works in a particular field that pays well.  He also said that he respects people, and is drama-free.  In the "What I'm Looking for" section, he said he is looking for a young and very hot FWB, and that he doesn't mind helping her out financially.
Once your profile is online and approved – you are then ready to use their Search feature … which, of course, allows you to search by age, distance, ethnicity, etc. etc. etc.
The individual I interviewed for this article joined the site, all as recommended above – and within 4 weeks, met the two hot young sugar babies described earlier PLUS the other two hot women who are looking for more of a traditional-type dating arrangement.  I think the amount of success you will have depends on how much time you put into the effort – and (of course) how many women you contact via the site.
WHAT TO WATCH OUT FOR
Be careful especially when you first join – and be very wary of what appear to be hot women that only post one photo of themselves, and then give you their phone number or email address in the very first email they send you.  Those individuals are either scammers from Nigeria, or they could be escorts.  Both exist on this site (and all dating sites) but I believe it is easy to tell who is who, and if they are genuine or not.
So there you have it – a good HOW TO guide for getting started with a sugar daddy relationship.  If instead you are simply interested in dating someone wealthy, then be sure to see my other article here entitled, How to Meet a Wealthy Man or Woman?  You don't have to be a Sugar Daddy or Sugar Baby to meet someone wealthy.  You don't even have to be wealthy yourself – but there are things you can do to meet someone wealthy.  Give the article a read to learn how.
What do you think – are these sugar relationships a good idea?  A bad idea?  Are they objectionable?  Or are they totally hot and mutually beneficial?  Please share your thoughts with us in the COMMENT section below, or on our Midlife Forum – and remember to please keep your language clean.
---
ADDITIONAL ARTICLES ON SUGAR DATING
1) Sugar Baby Explains How Sugar Daddy Relationships Work
2) How to Be a Good Successful Sugar Baby
The first article explains how a sugar relationship works, from the point-of-view of a real Sugar Baby.  The second article discusses everything you need to know in order to succeed (and be safe) as a sugar baby. So whether you are an aspiring sugar baby OR an aspiring sugar daddy, one of the above two articles (plus this one – the one you are reading) can help you out.

---
Are You Interested in Meeting Someone Wealthy (without being a Sugar Daddy or Sugar Baby)?
If so, then read our article entitled, How to Meet a Wealthy Man or Woman?  You don't have to be a Sugar Daddy or Sugar Baby to meet someone wealthy.  You don't even have to be wealthy yourself – but there are things you can do to meet someone wealthy.  Give the article a read to learn how.